By James Veneto
So, you've obtained your Massachusetts Hoisting License… compliments to you on your achievement.
Now the fun part … maintaining it.  
For the last 15 years or so, I have been asked two questions every day: 
How do I get a hoisting license? 
How do I renew my Mass hoisting license? 

For this article, we will only be discussing MA Hoisting License renewals.  
How often do you need to renew your MA Hoisting License?
Your MA Hoisting License is good for 2 years, with the exception being when you first obtain it.   After your hoisting license is initially issued, your first expiration date will be on your second birthday following the issue date. Here is an example: 
Let's say today is May 15th and you just received your license.  Then let's pretend your birthday is July 1st.  In about 7 weeks, it will be your first birthday since obtaining your license. As mentioned above, your license will expire on your second birthday.  So in this scenario, the licensee only had 1 year and 7 weeks for their first cycle. 

From then on, you get the full two years for each renewal cycle, and your expiration date will be every two years on your birthday.  If you are ever unsure, simply look at the front of your license where the expiration date is displayed. 
Call it commonplace that people don't remember their hoisting license is coming due for renewal. Life happens and you probably don't go home and discuss expiration dates over family dinner.  
Having been in the business long enough, we recognized this problem and did something about it.  On our website (AtLeisureLicense.com) we created License Management Tools, which allow you to add any license(s) you hold, enter the expiration dates, then receive text/email alerts to remind you when your license is about to expire.
What is required to renew your MA Hoisting license?
Current Renewal Form: This will get mailed and/or emailed to you about 45 days prior to your license expiration from the MA DPL. If you did not receive a current Renewal Form as expected, it likely got lost in the mail. You can request a duplicate on our About the Renewal Form page.
Valid Driver's License: The state will also accept a learner's permit, MA Identification (i.e. liquor license) or a Temporary License.
Valid DOT Medical Certificate: DOTs are generally good for two years, depending on your health. We (At Leisure) work with a network of doctors to offer DOT Physicals at a discounted rate of $75. This benefit is available to customers only. 
Continuing Education Certificates: You must complete continuing education for each grade of license you hold (i.e. 1C, 2A, etc.).  You will receive a certificate of completion proving you completed the requirement. 
Payment: There is a $60 state fee to renew. This is a one time fee, regardless of how many grades you hold. 
What does continuing education consist of?
So there is some good news; continuing education is easy.  At least it is through us (At Leisure).  
Different providers offer different things, but speaking on behalf of ourselves, our courses are self-paced, professionally narrated (optional), require no quiz or test, and we even offer Electronic Renewal Submission (the only provider to offer it).  
Massachusetts Hoisting continuing education courses are made up of two elements: regulatory (law) training and equipment-specific training. If you hold multiple license grades, you'll need to complete continuing education for each one, but you only need to complete the regulatory portion once. At Leisure's platform ensures you don't repeat material or complete more than the required hours.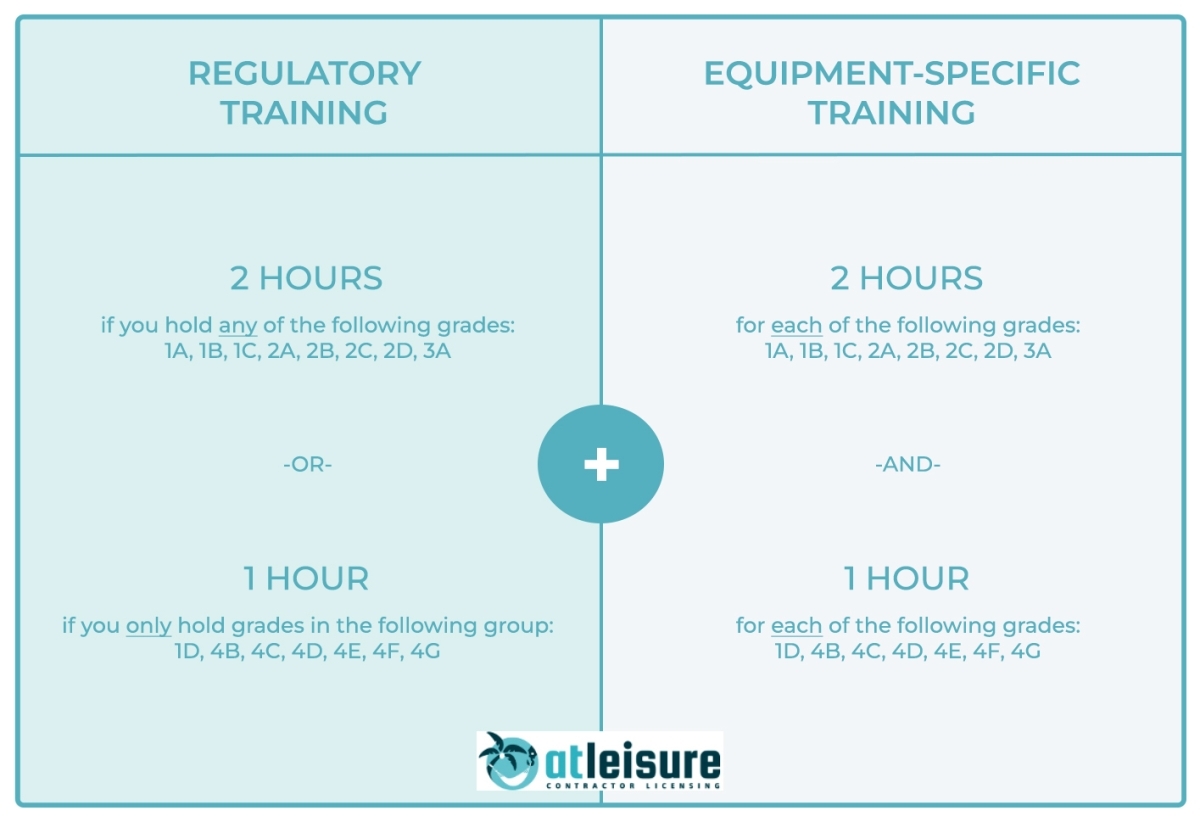 When do I need to complete my continuing education?
Your continuing education may be completed at any time in your renewal cycle.  That means  if you expire in the summer, but have a lot of downtime in the winter, you can get it done early and just retain your certificates until it's time to submit your renewal.
The ONLY restriction you face is when you may submit everything to the state.  You cannot submit your renewal UNTIL you have received a current Renewal Form.  As mentioned earlier, this arrives about 45 days prior to your license expiration either by mail or email. 

What happens if my MA Hoisting license has expired? 
In the event your hoisting license expires, you have a one-year grace period in which you may renew without penalty.  Your license will go into an Expired status, which means it's illegal to operate equipment; however, you have one year to submit your renewal. In the event you pass that one-year grace period, your license will go into a Null & Void status, at which point, you are essentially starting over and need to retake the exam to get your license back. 
If for some reason you need to place your license in an Inactive status until further notice, this option is available.  An example of when this would occur is if you were leaving the country and wanted to "pause" until you return. This would allow you to pass the grace period without penalty. 
How to submit my renewal to the state?
Currently there are four options available: 
Mail
When you receive your current Renewal Form, there are instructions on how to mail everything into the state. Make sure everything is perfect, or your renewal will be denied. 
Online
The state now allows you to submit your renewal on their website here.
The feedback we receive is that people find it challenging as the state site is not very user-friendly. 
In-Person
If time is of the essence, you may renew in person at the Department of Public Safety in Boston, MA. Much like visiting the RMV, take a number and get in line. You will pay for parking and have to go through security.  We only recommend this option if renewing is an emergency. 
Through At Leisure
As the only provider to offer this service to their customers, we whole-heartedly recommend it. This is an added benefit that past customers admire because it's the simplest solution.  We've made the process as user-friendly as it can be, and we double check everything before submitting to help ensure your renewal isn't denied. Plus if you need help, our customer support is the best. 
With At Leisure's renewal submission add-on, simply upload your documents to your profile and e-sign with your mouse. Our advanced website will check your renewal paperwork for any errors, and then a real human will personally review it to double-check. 
Click the link to view Massachusetts Hoisting continuing education courses, as well as other related services offered by At Leisure.