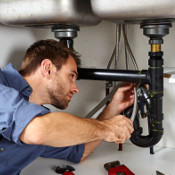 Continuing Education
For MA Plumbers & Gas Fitters who need to renew their license. State approved for online use, certificate of completion available upon completion of course. 
Select from the dropdown list to learn more about course details and benefits, or to purchase!
Take one of our convenient online courses needed to renew your MA Plumbing and Gas Fitter license.
Renewing Your MA Plumbing License with Online Plumbing Courses
At Leisure Contractor Licensing is the premier vendor for MA Plumber and Gas Fitter online continuing education in Massachusetts. With At Leisure, it's easier than ever to renew your license with our online plumbing courses. We offer Sessions 9-12 online, with options of the 6-hour Plumber and Gas Fitter courses, or the 3-hour Gas Fitter courses. Our online Continuing Education courses are approved by the Massachusetts Board of Examiners of Plumbers and Gas Fitters. For a limited time, all of our MA Plumber and Gas Fitter online courses are $20 off with your discount automatically applied at checkout. Try the best for less!

The Benefits of At Leisure's Online Plumbing and Gas Fitter Courses
At Leisure takes pride in being the foremost online Plumber and Gas Fitter licensing school in Massachusetts. To ensure you get the best education possible (and bang for your buck), we've hired the best experts in the field to write the course material, so you can rest assured that you're getting the best education out there. Trusted by tens of thousands of construction professionals, At Leisure offers the most comprehensive Massachusetts plumbing continuing education courses. Our courses afford:
Immediate access to certificate of completion
24/7 online access on custom built software
Optional audio narration
Auto-saving course progress
"Easy-to-pass" final quiz
Mobile compatibility
Relaxed learning environment
World-class customer support
Why Choose At Leisure Contractor Licensing?
Our Massachusetts plumbing Continuing Education courses provide:

"Easy-to-Pass" Final Quiz
Each part of the quiz comprises a multiple-choice section of 70 questions. A grade of 70% or higher must be obtained to complete the class and receive your certification. At Leisure sets you up for success: Our final quizzes are clearly covered in the course. Even if you select a wrong answer during testing, the course will review the answers with you as a study aid and give you a second attempt.

24/7 Online Access on Custom Built Software
In these unprecedented times of the COVID-19 pandemic, finding a classroom may not be possible. Our online courses provide you with 24/7 access from any device. We did not force a third-party platform into our site – yes, there is a difference. Our software was custom built and designed to be user-friendly. Even if you aren't computer savvy, find yourself stuck at any point, or simply have a question, we're here 24/7 to help you out.

World Class Customer Support
We know that giving you just an email address and the promise to get back to you within 24 hours simply won't do – especially when you run into a problem and need an answer fast. That's why we offer 24/7 phone support all 365 days of the year and created an intelligent self-help forum that suggests solutions to your problems as soon as you begin typing! Our support staff is also well-trained to get you going quickly and easily.

Online Plumbing Courses at Your Own Pace
Now that the time has come to renew your license, there's no need to push it off until the very last minute. At Leisure wants to help you renew your MA Plumbing and Gas Fitter license at your own pace with our state-approved online courses.